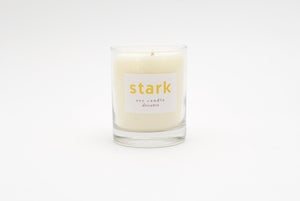 $

28.00
Soft powdery wood, with green floral and citrus zest. Notes of rose, linden, sandalwood, orange and neroli.
Stark candles are designed, formulated and hand poured in Los Angeles. Based on the earthy nature of essential oils, the original scents are a calming, subtle addition to any living or work environment. Stark candles are timeless classics to sooth and rejuvenate and we hope you enjoy burning them as much as we enjoyed creating them.
Stark candles are soy candles. Why soy? Soy burns slower, produces less smoke and sustains an even scent. Stark candles are made with soybeans that are grown and processed in the USA. For best results keep candle lit for no more than 2-3 hours at a time.